Concurrent Sessions (311-314)
311
Fluid Management/Cardiac Stunning
Patricia McCarley, MSN, RN, ACNP-BC, CNN
Individuals with kidney disease often experience abnormal fluid volume. Learn how to identify patient fluid status, the standards for fluid removal, physical findings associated with rapid fluid removal, and the current and long-term effects of cardiac stunning. Interventions to manage fluid volume challenges in patients also will be discussed.
---
312
The Impact of Nursing Shortages on Staffing Ratios
Charlotte Thomas-Hawkins, PhD, RN, FAAN
This session will review the anticipated need for nurses in the healthcare system in the midst of a growing nursing shortage. The impact of the shortage on staffing in nephrology and strategies to decrease that deficit will be explored. A highlight will be a discussion of the driving forces in the nephrology nursing shortage, such as staffing ratios, increased acuity, and loss of experienced nurses.
---
313
Fostering Staff Engagement
Charlie Kelley, MSN, RN
This session is designed for leaders seeking to foster staff engagement. Discussion will focus on providing educational opportunities, promoting a healthy work environment, creating occasions for staff recognition and celebration, and offering mentorship programs and flexible work hours. Issues related to an aging workforce and the impact of stress also will be addressed.
---
314
Calciphylaxis in ESRD
Sagar Nigwekar, MD
Calciphylaxis is not uncommon in individuals with kidney disease. Review the incidence, prevalence, risk factors, and diagnostic criteria for calciphylaxis. Discussion will cover skin lesions in calciphylaxis and emerging treatment options to halt the disease's progression.
Concurrent Sessions (321-324)
321
LVAD/ECMO: Nuts and Bolts
Lisa Jennings, MSN, CCRN-CMC, ACNP-BC, CHFN, CVNP-BC, FHFSA
Treatment options for severe heart failure include left ventricular assist devices (LVADs) and extra-corporeal membrane oxygenation (ECMO). As nephrology nurses care for patients at risk for heart failure, it is important to understand the indications for the use of these devices and how they work. Learn more about the nursing care for patients with LVADs/ECMO and potential treatment complications.
---
322
Essentials of Pregnancy and Chronic Kidney Disease
Jessica Tangren, MD
Pregnancy increases the challenges of planning and implementing care for women with chronic kidney disease (CKD). Review current clinical practice guidelines related to managing care for a pregnant patient with CKD, including differentiating between acute kidney injury and pre-eclampsia.
---
323
Managing Interpersonal Conflict
Tracy Holman-Speights, DNP, APRN, FNP-C, MBA
Nurses and nurse leaders may encounter interpersonal conflict on a daily basis – among healthcare professionals or between patients and healthcare professionals. Explore ways to detect early signs of conflict and ground rules for handling interpersonal conflict. Proven communication techniques to minimize and manage interpersonal conflict will be a highlight of this session.
---
324
What Your Chronic Kidney Disease Patient Is Afraid to Ask, but Really Wants to Know about Male and Female Sexual Dysfunction
Jeffrey Albaugh, PhD, APRN, CUCNS, CNS
Sexual dysfunction is common in men and women with chronic kidney disease. This session will review sexual issues that may impact individuals with kidney disease, tips for discussing this potentially sensitive topic with patients, and treatment options and resources for male and female sexual dysfunction.
Closing General Session
330
Fad Diets: Consequences for Renal Patients and Nephrology Nurses
Laura Byham-Gray, PhD, RDN, FNKF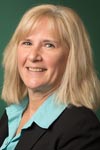 This session will focus on current fad diets and health-related warning signs we should watch for in our patients, our colleagues, and ourselves. How do you know if a diet is healthy? What impact does the diet have on renal function? Learn important information you can share with patients and colleagues about fad diets.
View the schedule for Sunday